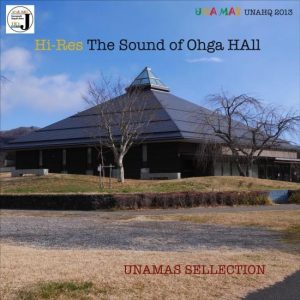 The Sound of Ohaga Hall
UNAMAS Strings Quartet, UNAMAS Fugue String Quintet, UNAMAS Strings Septet, Yuki Arimasa
String quartet consists of the members satisfying the required skill of the instrument and expected to cover the solo part as well as the ensemble part to be overdubbed.
Four artists, one for each string instrument, manage the solo part in one of four seasons they are responsible for (Spring by Vn2, Summer by Vc, Autumn by Va, and Winter by Vn1 in this production). In order to achieve this goal, Ms. Shiori Takeda as leader made the ideal selection of the members, and we named the young artists' team "The Quartet Four Seasons".
Added a contrabass so that it could help representing Bach's dignified low notes in the compact string ensemble, and the consequent placements of instruments for 5-voice polyphony was examined through the simulation by Finale application. Its result is as follows: LS: Vn1, FL: Va, FC: Cb, FR: Vc, LR: Vn2.
"Death and the Maiden" is the fourteenth work that Schubert composed. We chose this piece because the music structure is dynamic and dramatic, and we wanted to produce a classical work not in a sophisticated tradition of strings but rather in the style such as one performed by duo cellos now popular worldwide.
In order to enhance the progressiveness in the music framework, we weighed the balance of lows deeper by replacing the viola part with another cello that concluded the quintet of 2 violins, 2 cellos, and 1 contrabass. Following the arrangement, Mr. Tsuchiya derived 5-part performance data out of Finale application which we extended to experiment 5-channel surround mixes on Pyramix to simulate the ideal instrument layout and dimensions of surround sound. We concluded the option of violins in front L/R while cellos in rear L/R with the contrabass in front center, and the artists sat accordingly on the stage in Ohga Hall.
This album targeted to highlight the brilliant tones of Steinway Hamburg piano that belonged to Ohga Hall. The music brought here is original in jazz but with the elements of classical flavor based on the themes by Bach, Debussy and Beethoven. The performance is purely in jazz style to expand the main themes with free improvisations. The piano is the ultimate Steinway D274 model made in Hamburg that arrived in Japan in the 1970's with Arturo Benedetti Michelangeli. Being infamous for cancelling as he was, he went back home before his last concert, and the inviter agent got hold of the instrument (S/N #427700) that later settled itself down in Ohga Hall by a happy chance.
UNAMAS Classics Series continues to support music in surround, and has been arranging the score originally in the style of UNAMAS. In this production, the instruments are arranged with 2 violins, 2 violas and 2 cellos as the basis in our original score that suits quite well with surround by itself, but we further have added a contrabass for low frequency enhancement resulting the recording of a string septet.
UNAMAS Strings Quartet
UNAMAS Fugue String Quintet
UNAMAS Strings Septet
Yuki Arimasa, piano