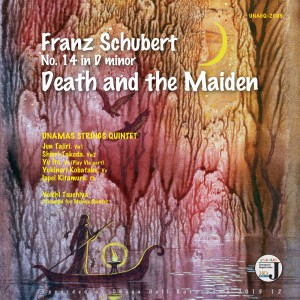 Franz Schubert No. 14 in D minor Death and the Maiden
UNAMAS STRING QUINTET
UNAHQ-2009( UNAMAS J )
4K PV 
 4K interview

Info for Franz Schubert No-14 in D minor Death and the Maiden
Mick Sawaguchi the winner of Japan Professional Recording Award with the releases of Jun Fukamachi's final album "Reimei" and UNAMAS Fugue Quintet's "The Art of Fugue" now introduces the latest work on Schubert's string quartet No. 14 "Death and the Maiden".
This album is the third project in the UNAMAS Classic series produced by Mic Sawaguchi, and they continued the session of "Death and the Maiden" with the arrangement by Yoichi Tsuchiya whom Mick fully depends on and came back to Ohga Hall of Karuizawa for recording.
Most remarkable would be the cello replacing the original viola part to make the quintet consisting of 2 violins, 2 cellos, and a contrabass that enabled to maximize the dramatic and dynamic aspect of the music in the arrangement. The perfectionist approach by Mick Sawaguchi on the sound quality also takes a step further by employing a pair of Eliiy Power's Power Yiile Plus (PPS-20) 2.5KVA battery supplies, one for the cleaner energy in the concert hall monitoring and the other for driving equipment on the stage in addition to EMC noise treatments.
Five artists were placed in a circle for the best resonation of ensemble, and five main mics stood in the core of the circle to capture the details while the four surround mics enhanced the immersiveness.
Enjoy the latest and most challenging "Death and the Maiden" that blends Mick's recording sensitivity with the latest technologies.
"Death and the Maiden" for Strings Quintet (2 Violins 2 Cellos Cb)
com. F. Schubert  arr. Yoichi Tuchiya
1 Allegro 16'24"
2 Andante con moto 14'08"
3 Scherzo Allegro molto 4'04"
4 Presto 9'44"
Play by UNAMAS Strings Quintet
Jun Tajiri (Vn.1)
Shiori Takeda (Vn.2)
Yukinori Kobatake (Vc.1)
Yu Ito (Vc.2 play Va. part)
Ippei Kitamura (Cb.)
Yoichi Tsuchiya (Arranged for Strings Quintet)
Franz Schubert No. 14 in D minor Death and the Maiden
UNAMAS STRING QUINTET
UNAHQ-2009( UNAMAS J )