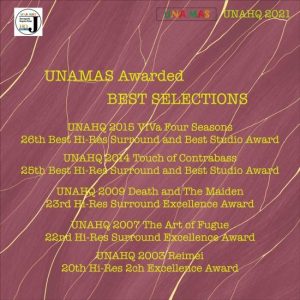 Info for UNAMAS Awarded Best Selections
The album is a collection of gem that consist only of award-winning works of Professional Music Recording Award of Japan ‒ the most prestigious professional musical recording award in Japan ‒ and is a portfolio released by UNAMAS, the music label which has been releasing high quality works since 2007 the early days of Hi-Res surround sound.
The album contains 6 award-winning titles from 2013 to 2019 ‒ won awards 5 years in a row from 2015, and two of which had won the highest award ‒ and puts together three key elements which are Art, Technology, and Engineering. And it is filled with passion delivered by Mick Sawaguchi who contentiously leads the recording art scene. This detailed and full recording will be a milestone in recording art history for the future as a reference to quality music production works.
The Professional Music Recording Award of Japan It is the most prestigious musical recording award for professionals and is primarily intended to improve engineers' technique as well as discover talented next-generation engineers by evaluating and rewarding engineers' sensibility and technical ability toward music from applied works done by recording engineers who play their roles in the development of music culture and industry.
It has been co-organized by Japan Audio Society, Japan Association of Recording Engineers, Japan Association of Professional Recording Studios, and Recording Industry Association of Japan. The inaugural award took place in 1994, and this historical award celebrated the 26th anniversary in 2019.
UNAMAS Strings Quintet