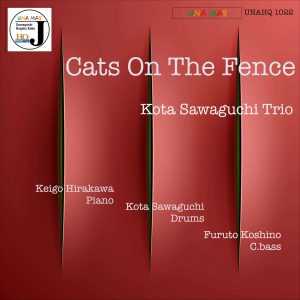 Cats on the Fence
This is a first leader album by Kota Sawaguchi who plays drums. It is an album to have identical feelings while live performance at Jazz Club in TYO. With Keigo Hirakawa, a pianist living in America. Kota met him in the session in August 2017. Recording in May 2018, just before Hirakawa returned to the United States, Koshino Furuto was invited as the bass player that supports the trio. Please enjoy honest and free interplay that the trio each other felt at recording time.
In August 2017, UNAMAS monthly jam session hosted by me, Keigo Hirakawa suddenly appeared as a pianist. I remember that he had played 3 or 4 tunes that night, but by the time the jam session ended, I clearly imagined the conclusion that this album would be released. He has staying U.S.A, but one-year stay in JAPAN for his work. I invited the bassist Furuto Koshino and booked some of the live performances in the trio at once.
About that, Hirakawa's piano was brilliant. It is not a matter of style, he does not hesitate to play the sound which he felt like "I want to play" at that time. Honesty with respect to the expression form of Improvisation, and I was struck by the traces of training to realize it.
Bassist Koshino also made a great contribution to the music of the trio. Besides thinking the meaning of the series of the preceding and succeeding sounds, he is devoted to the music of the place that he thinks best. It was able to prove by this work that it is one of the few bassists that can play a proper performance.
Keigo Hirakawa, piano
Furuto Koshino, double bass
Kota Sawaguchi, drums