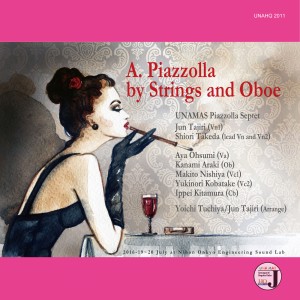 A.Piazzolla by Strings and Oboe
UNAMAS Piazzolla Septet
Jun Tajiri Vn1
Shiori Takeda Lead Vn and Vn2
Aya Ohsumi Va
Kanami Araki Ob
Makito Nishiya Vc1
Yukinori Kobatake Vc2
Ippei Kitamura Cb
Yoichi Tsuchiya/Jun Tajiri (arrange)
2016-19~20 July at Nihon Onkyo Engineering Sound Lab
4K MV

 4K Behind the Scenes & Interview 

M-01 Oblivion (Astor Piazzolla)  4'17"
M-02 Adios Nonio (Astor Piazzolla) 6'15"
M-03 Premavera Portena (Astor Piazzolla) 5'47"
M-04 Liber Tango (Astor Piazzolla) 4'04"
M-05 Tanguedia (Astor Piazzolla) 4'25"
M-06 Fugata (Astor Piazzolla) 3'11"
M-07 Soledad (Astor Piazzolla) 8'17"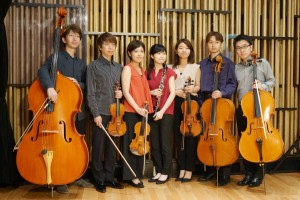 UNAMAS Piazzolla Septet
Jun Tajiri (Vn1)
Began studying violin at the age of 7 under Yoshiko Honma and late Ryosaku Kubota. On graduating from Toho Gakuen College in 1988, he joined Gunma Symphony Orchestra and was assigned as Assistant Chief Violinist. His activity is based mainly in Gunma Prefecture for concertos with the orchestra as well as solo performance and chamber music.
In 1994, he participated in Prague Spring and Wiener Festwochen music festivals, and was invited to Tokyo Symphony Orchestra as Chief Violinist where he enjoyed the honor of performing the solo with the orchestra in the royal concert in Toka-Gakudo music hall in the Imperial Palace, and he was promoted to Assistant Concert Master in 1998.
Other recent activities include FM broadcast recital program of NHK in 2002, organizing Silius String Quartet in 2004, concert series in IMA hall in Tokyo Symphony SQ, and recordings in movie soundtracks and commercials as studio musician.
Shiori Takeda (Vn2 and Lead Vn at M-03 04 05)
Born in 1988. Graduated from Music Department of Tokyo University of the Arts in 2010 majoring violin instrument. Winner of Kyoto Mayor Award in Kyoto Art Festival "Gathering of Young Musicians Flying to the World", and other contests such as National Music Students' Competition, Japan Classic Music Competition, Yokohama International Music Competition, and Rumania International Music Competition.
While being a student, she was active in performing in solo, ensemble, or orchestra, and joined in various recordings and live concert support with the strings she took the lead. She took part in Tokyo Symphony Orchestra as violinist in 2012, and appears in high-res UNAMAS label releases as one of key members: "Four Seasons" in 2014 and "The Art of Fugue" in 2015."Death and The Maiden"2016.
Aya Ohsumi (Va at M-03 04 05 06)
Graduated from Attached High-school of Japan Women's University and Music Department of Tokyo University of the Arts, and now in the second year in its graduate school. Began lessons of violin at the age of 3, and changed the instrument to viola at 18. Award-winner in 11th Osaka International Music Competition. The First Prize winner in 13th Burckhardt International Music Competition. She joined Carl Flesch Akademie International in Germany in the summer of 2011 and achieved a diploma with scholarship on her graduation.
Studied violin under Yasuko Ohtani, viola under Kazunori Kawasaki and Kaoru Ohno, and chamber music under such professors as Kazunori Kawasaki, Katsuya Matsubara, Nobuko Yamazaki, Hajime Ohtomo, Ryoichi Fujimori and Hiroyasu Yamamoto. A member of TGS String Ensemble that consists of the graduated classmates of Tokyo University of the Arts, and now violist in Tokyo Symphony since April 2015.
Kanami Araki (Ob at M-01 02 07)
Born in Ibaragi in 1993 and began oboe lessons at the age of 9. Graduated from Tokyo University of the Arts at the head of her class and now in the master class in the graduate school while performing as primary oboist of Tokyo Symphony Orchestra. Unanimous First Prize winner and Audience Award as well at 11th Sony International Oboe Competition in Karuizawa. Many other awards such as Second Prize at 31st Japan Woodwind and Percussion Competition, Oboe Section, University's Ataka Award and Acanthus Award.
She had her debut recital in April 2016 in Tokyo Spring Music Festival and also performed Mozart, Richard Strauss and Martinu concertos with Tokyo Geidai University Philharmonic and Tokyo Symphony Orchestra. Studied under professors such as Maki Sakamoto, Keiko Narita, Hitoshi Wakui, Yoshiaki Obata and Satoki Aoyama.
Makito Nishiya (Vc1)
Born in Nara. After graduating from Tokyo University of the Arts and its graduate school with master degree, he was accepted by Indiana University in the States for further study. He studied cello under such professors as Fumiaki Kono, Tomoya Kikuchi, Go Tsutsumi, and Janos Starker. Upon returning from the States in 2005, he participated in the initialization of Hyogo Art and Culture Center Orchestra led by Maestro Yutaka Sado. Variety of concert activities of his expand performing as soloist with Kazuyoshi Akiyama, Tadaaki Odaka, Yutaka Sado, and joined sessions with Yasuko Ohtani String Quartet, Ryota Komatsu Tango Orchestra, Live Image, Taro Hakase's Violin Summit. In January 2013, he collaborated with Shigeo Neriki, pianist to have joint recitals in Tokyo and Kyoto, which was well received winning Aoyama Music Award of the year. In 2015, He formed the unit "ShimizuNishiya" together with Yasuaki Shimizu, the head of violinists in Tokyo Symphony, and released the debut CD album "KODO" that covered only their original compositions by overdubbing just by themselves. He is now the head of cellists in Tokyo Symphony and part-time teacher in Tokyo University of the Arts while being active in composition, arrangement, and performance.
Yukinori Kobatake (Vc2)
Graduated from Tokyo University of the Arts with the master's degree. Studied under Toshio Mase, Hiroyuki Kaneki, Masaharu Karita, Nobuko Yamasaki, and Ryoichi Fujimori. Participated in Ozawa International Chamber Music Academy. Performed as contracted cellist in Tokyo Philharmonic Orchestra, and now his activity widely ranges from solo and chamber music to recordings.
Ippei Kitamura (Cb)
Born in Saitama and graduate of Tokyo University of the Arts in 2002, then achieved the master's degree in 2005. Being a university student, Kitamura joined in Beppu Argerich Festival. In 2005, he played the soloist in "Pentatonicophilia" composed by Julian Yu in the International Gaudeamus Music Week. In 2006, he joined in Seiji Ozawa Music Class VII "Resurrection". He studied contrabass under such professors as Yoshio Nagashima, Ganju Kuroki, Naofumi Nishida, Osamu Yamamoto, and Shigeru Ishikawa, and his activities range from orchestras to brass bands, studio sessions, and musicals. After working in Tokyo University of the Arts as lecturer, he continues to be a member of Tokyo Symphony Orchestra. Now studying in the master's degree section of musicology in Tokyo University of the Arts.
Yoichi Tsuchiya (Arranger)
Born in Shibuya, Tokyo and began studying piano at 20 and then composition afterward. Graduated from the Composition Section of Tokyo University of the Arts in 2011. Studied composition under late Akira Kitamura, Yuzuru Kondoh, Hiroyuki Yamamoto, Masaki Teruya, and Junnosuke Yamamoto. Also learned sound design from Mick Sawaguchi, recording from Toru Kamekawa, and engineering from Masaaki Enatsu.
His production "Prelude 5.1" in 5.1ch represented Japan Student Section in 130th AES Convention London Recording Competition, Modern Multi-track Studio Recording. In Recording Critics of the 131st AES Convention New York, "Cori Spezzati Nova" (5.1ch) was highly praised by Elliot Scheiner who is producer and mixing engineer of the Eagles, Aerosmith, Steely Dan and other well-known artists. Morten Lindberg of 2L label commented "music I've never heard".
In 2012, he won the 5.1 Music Production Award of DTM magazine. In 2014, "The Universe for Surround", a collection of surround compositions, was released under UNAMAS label.
A.Piazzolla by Strings and Oboe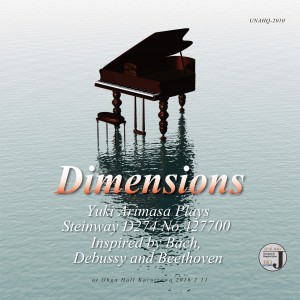 Dimensions
Yuki Arimasa (piano)UNAHQ-2010( UNAMAS J )
[1] Inspirations:Bach Cantata BWV 147
[2] Inspirations:Bach Partita BWV 826 Sarabande Part1
[3] Inspirations:Bach Partita BWV 826 Sarabande Part2
[4] Inspirations:Bach Partita BWV 826 Sarabande Part3
[5] Inspirations:Debussy Homage to Rameau
[6] Inspirations:Beethoven Piano Sonata NO.8 Op13Adagio
[7] Green Sleeves
Dimensions of Piano & Music
Masaaki Fushiki
I have never heard such a sound from recorded media that realizes the image of piano itself almost visible. It is as if the listening touches the instrument through the ears. What makes the sound so real? One of factors I perceive is the purity without least residues in the notes that builds up the form of instrument. Particularly noticeable is the beauty in the extremely fine and subtle decay of envelopes.
The piano played here is Steinway Hamburg D274 model, and its serial number #427700 implies that the instrument came with Arturo Benedetti Michelangeli when he visited Japan. As he went back home before his scheduled final concert, the artist being infamous for such behaviors, the inviter-agent kept hold of his instrument instead and then later offered it to Ohga Hall through some kind of relationship. The pitch is tuned at 440Hz "classically" in the recording as Yuki Arimasa specified.
The music here, the collection of ballades, is actually all derived from well-known themes of classical music, and Yuki Arimasa expands his improvisation as we enjoy the progress crossing the border of classical and jazz music.
Track 1 is from one of the most popular cantatas of J. S. Bach, No. 147 "Herz und Mund und Tat und Leben", in which the string ensemble ripples the melodic passage along the choral "Jesus bleibet meine Freude".

Track 5 is "Homage à Rameau", one of three pieces in Debussy's "Image 1". Debussy was very much into the methodology of classical and baroque compositions in this period of time. As an implication for it, some of his works were actually titled "Prelude" or "Sarabande", and Rameau, the French major in 17th century, seemed his particular favor. I tend to find this piece is the core of this album, and Yuki showed much concentration in it as his homage to Debussy.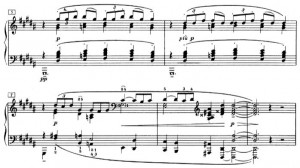 Back to the earlier topic of sound purity, Mick confessed, "it may be perhaps due to the benefit of batteries". In Ohga Hall in Karuizawa where the recording took place, the entire electric energy was supplied from a couple of portable battery products "Power Yiile Plus" that were brought in specifically for this session. The product is nominally for home use in the emergency power-down occasions or for shifting peak consumption time, while it can sufficiently serve 7-8 hours of the recording session like this. If one would use the same solution in the playing at home, the result might be even more astounding! One more factor to note in addition would be the perfectionistic treatment of all kinds of vibrations around the stage even for each contact of cables and plugs that is now the style of UNAMAS recording sessions.
I listened to this recording first in the 9.1 mix that set a standard in my brain and ears. At a later time, I listened to the 5ch mix (equivalent to the release version) at home. The difference between the two was less of auditorium reverberation in the 5ch resulting a simpler situation acoustically that enhances your facing with the instrument more directly. As you shift your listening environment from high-res, pure 2 channel to 5 channel with surround, and from 5 to even higher 9, the sensational factor in sound listening changes from typical "sound quality" horizon to something else. I characterize it as "the presence of sound or instrument" that consists of the relationship between direct sound and indirect sound. When you hear indirect sound exactly from the same point as direct sound, it won't stimulate your perception of the realistic instrument. With the 5ch mix, even if the amount of indirect elements stays in the same level overall, their localization spreads in a more spacious field dimensionally which may contribute in realizing the presence from the sound of instrument, and then the 5ch mix would tend to appear smoother and silkier. The recording here places the piano only a few meters away in front of you to capture very precisely and vividly the solid Steinway highs as well as the lows in the deep. In addition, the acoustics does not fail to illustrate the event is taking place in a much larger concert hall space which is subtle yet appreciable.
Mick's intent here is to establish a stage for listener to relate himself or herself with the instrument beyond simply reproducing the concert hall acoustics, and doing so he managed to offer an ideal listening condition for us. The perception of space and soundstage that I mentioned here may differ depending on each individual playback environment, but the quality will be enjoyed everywhere as its common feature.
Dimensions
Yuki Arimasa (piano)UNAHQ-2010( UNAMAS J )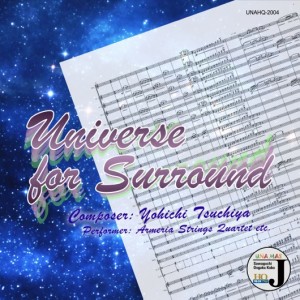 Universe for Surround Yohichi Tsuchiya
Armeria Strings Quartet, Symphonic Suite for Suround Ensemble & Yohichi Tsuchiya

About this album
This album was made entirely from the concept of surround sound.
All the songs were written with surround sound in mind, and the recording was done using every aspect of the surround technique to create a full orchestral sound with only 4 musicians.
The Armeria Strings Quartet has taken part in many international concours, often ending at the top of the rankings.
Yohichi Tsuchiya
Composer/musician Yohichi Tsuchiya was born in Shibuya, Tokyo. He started working as a mainly piano based composer at the age of 20. In 2011 he graduated from the Tokyo University of Fine Arts and Music.
At the 131st AES Convention of Recording Critiques in New York, Eagles, Aerosmith and Steely Dan producer Elliot Scheiner was highly impressed with Tsuchiya's work.
Equally impressed was Morten Lindberg of the prestigious 2L label, saying he had "never heard something like this before".
Technical Specifications:
M-01 to 09
2012 10-14 Onkyo House Studio 1, Tokyo
M-10
2009 8-17,18,31 TYA A-st
M-11/12
Studio-T/marimo RECORDS
trial listening of the other songs [Apple iTunes]
Song Title:
[1] E
[2] Expectation
[3] Five
[4] Ame Onna
[5] Hotarubi
[6] Last Song
[7] Slow Hug
[8] Sonata
[9] Path in Winter
[10] Symphonic Suite for Surround Sound  : 1. Prelude
[11] Symphonic Suite for Surround Sound  : 2. Cori Spezzati Nova
[12] Symphonic Suite for Surround Sound  : 3. Path in Winter
Artist :
Yohichi Tsuchiya : Composer, Mixing engineer
[1]~[9]
Chisato Maehara : Violin
Shiori Takeda : Violin
Chihiro Tai : Viola
Kazune Koshikawa : Violoncello
[10]
Shiori Takeda : Violin
Erina Sato : Violin
Akiyo Ueta : Flute
Shiho Hamano : Oboe
Yoko Hara : Clarinet
Atsuko Hirohata : Bassoon
Sotetsu Mimura : Horn
Universe for Surround Yohichi Tsuchiya
Armeria Strings Quartet, Symphonic Suite for Suround Ensemble & Yohichi Tsuchiya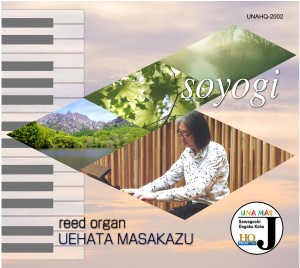 SOYOGI
Masakazu Uehata & Ami Yamasaki
Masakazu Uehata
Masakazu Uehata is a self-taught composer, pianist and reed organ player who regularly provides music for artists, animation, TV programs and commercials.
His playing of the reed organ (foot organ) produces a nostalgic sound.
Technical Specifications:
Main surround microphone (omni 8 method)
Front L:B&K 4003
C:B&K 4011
R:B&K 4003
Rear Ls:SANKEN CO-100K
Rs:SANKEN CO-100K
Vocals: AUDIO TECHNICA
AT-4050 URUSHI 50th Edition
Mixing Console SSL-9000Jx
Mic Pre Focusrite IAS-115
DAW Protools HD9
DAW Pyramix Ver7.0
1. Hamabe no Uta, Umi, Sunayama
2. Sousyunfu, Haru no Ogawa, Sakura Sakura DUO version
3. Oborozukiyo
4. Ame
5. Itsuki no Komoriuta
6. Takeda no Komoriuta
7. Antagatadokosa -Kagome Kagome- Zuizui Zukkorobashi
8. Chatsumi
9. Amefuri Otsukisan
10. Nanatsuno Ko
11. Yurikago no Uta
12. Kouyou
13. Ryoshu
14. Kokyou
15. Sakura Sakura – SOLO Version
Masakazu Uehata & Ami Yamasaki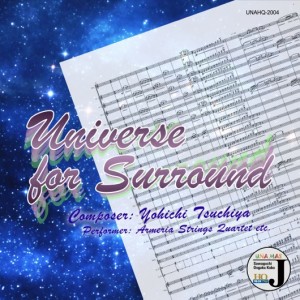 Universe for Surround
Armeria Strings Quartet etc.
UNAHQ-2004( UNAMAS J )
Format:
High Definition & Surround
FLAC 96kHz/24bit stereo/surround
About this album
This album was made entirely from the concept of surround sound.
All the songs were written with surround sound in mind, and the recording was done using every aspect of the surround technique to create a full orchestral sound with only 4 musicians.
The Armeria Strings Quartet has taken part in many international concours, often ending at the top of the rankings.
Yohichi Tsuchiya
Composer/musician Yohichi Tsuchiya was born in Shibuya, Tokyo. He started working as a mainly piano based composer at the age of 20. In 2011 he graduated from the Tokyo University of Fine Arts and Music.
At the 131st AES Convention of Recording Critiques in New York, Eagles, Aerosmith and Steely Dan producer Elliot Stein was highly impressed with Tsuchiya's work.
Equally impressed was Morten Lindberg of the prestigious 2L label, saying he had "never heard something like this before".

trial listening of the other songs [HQM STORE site]
Song Title:
[1] E
[2] Expectation
[3] Five
[4] Ame Onna
[5] Hotarubi
[6] Last Song
[7] Slow Hug
[8] Sonata
[9] Path in Winter
[10] Symphonic Suite for Surround Sound  : 1. Prelude
[11] Symphonic Suite for Surround Sound  : 2. Cori Spezzati Nova
[12] Symphonic Suite for Surround Sound  : 3. Path in Winter
Artist :
Yohichi Tsuchiya : Composer, Mixing engineer
[1]~[9]
Chisato Maehara : Violin
Shiori Takeda : Violin
Chihiro Tai : Viola
Kazune Koshikawa : Violoncello
[10]
Shiori Takeda : Violin
Erina Sato : Violin
Akiyo Ueta : Flute
Shiho Hamano : Oboe
Yoko Hara : Clarinet
Atsuko Hirohata : Bassoon
Sotetsu Mimura : Horn
M-1~9: 2012 10-14 ONKIO HAUS 1st
M-10: 2009 8-17, 18, 31 TYA A-st
M-11/12: Studio-T/marimo RECORDS
Universe for Surround
Yohichi Tsuchiya : Universe for Surround
Armeria Strings Quartet etc.
UNAHQ-2004( UNAMAS J )