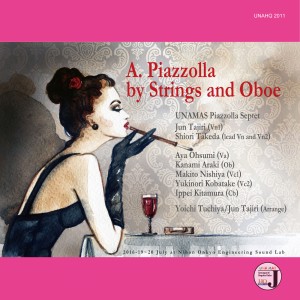 A.Piazzolla by Strings and Oboe
UNAMAS Piazzolla Septet
Jun Tajiri Vn1
Shiori Takeda Lead Vn and Vn2
Aya Ohsumi Va
Kanami Araki Ob
Makito Nishiya Vc1
Yukinori Kobatake Vc2
Ippei Kitamura Cb
Yoichi Tsuchiya/Jun Tajiri (arrange)
2016-19~20 July at Nihon Onkyo Engineering Sound Lab
4K MV

 4K Behind the Scenes & Interview 

M-01 Oblivion (Astor Piazzolla)  4'17"
M-02 Adios Nonio (Astor Piazzolla) 6'15"
M-03 Premavera Portena (Astor Piazzolla) 5'47"
M-04 Liber Tango (Astor Piazzolla) 4'04"
M-05 Tanguedia (Astor Piazzolla) 4'25"
M-06 Fugata (Astor Piazzolla) 3'11"
M-07 Soledad (Astor Piazzolla) 8'17"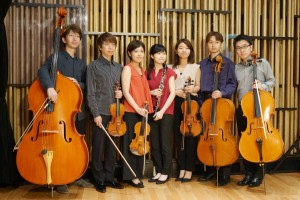 UNAMAS Piazzolla Septet
Jun Tajiri (Vn1)
Began studying violin at the age of 7 under Yoshiko Honma and late Ryosaku Kubota. On graduating from Toho Gakuen College in 1988, he joined Gunma Symphony Orchestra and was assigned as Assistant Chief Violinist. His activity is based mainly in Gunma Prefecture for concertos with the orchestra as well as solo performance and chamber music.
In 1994, he participated in Prague Spring and Wiener Festwochen music festivals, and was invited to Tokyo Symphony Orchestra as Chief Violinist where he enjoyed the honor of performing the solo with the orchestra in the royal concert in Toka-Gakudo music hall in the Imperial Palace, and he was promoted to Assistant Concert Master in 1998.
Other recent activities include FM broadcast recital program of NHK in 2002, organizing Silius String Quartet in 2004, concert series in IMA hall in Tokyo Symphony SQ, and recordings in movie soundtracks and commercials as studio musician.
Shiori Takeda (Vn2 and Lead Vn at M-03 04 05)
Born in 1988. Graduated from Music Department of Tokyo University of the Arts in 2010 majoring violin instrument. Winner of Kyoto Mayor Award in Kyoto Art Festival "Gathering of Young Musicians Flying to the World", and other contests such as National Music Students' Competition, Japan Classic Music Competition, Yokohama International Music Competition, and Rumania International Music Competition.
While being a student, she was active in performing in solo, ensemble, or orchestra, and joined in various recordings and live concert support with the strings she took the lead. She took part in Tokyo Symphony Orchestra as violinist in 2012, and appears in high-res UNAMAS label releases as one of key members: "Four Seasons" in 2014 and "The Art of Fugue" in 2015."Death and The Maiden"2016.
Aya Ohsumi (Va at M-03 04 05 06)
Graduated from Attached High-school of Japan Women's University and Music Department of Tokyo University of the Arts, and now in the second year in its graduate school. Began lessons of violin at the age of 3, and changed the instrument to viola at 18. Award-winner in 11th Osaka International Music Competition. The First Prize winner in 13th Burckhardt International Music Competition. She joined Carl Flesch Akademie International in Germany in the summer of 2011 and achieved a diploma with scholarship on her graduation.
Studied violin under Yasuko Ohtani, viola under Kazunori Kawasaki and Kaoru Ohno, and chamber music under such professors as Kazunori Kawasaki, Katsuya Matsubara, Nobuko Yamazaki, Hajime Ohtomo, Ryoichi Fujimori and Hiroyasu Yamamoto. A member of TGS String Ensemble that consists of the graduated classmates of Tokyo University of the Arts, and now violist in Tokyo Symphony since April 2015.
Kanami Araki (Ob at M-01 02 07)
Born in Ibaragi in 1993 and began oboe lessons at the age of 9. Graduated from Tokyo University of the Arts at the head of her class and now in the master class in the graduate school while performing as primary oboist of Tokyo Symphony Orchestra. Unanimous First Prize winner and Audience Award as well at 11th Sony International Oboe Competition in Karuizawa. Many other awards such as Second Prize at 31st Japan Woodwind and Percussion Competition, Oboe Section, University's Ataka Award and Acanthus Award.
She had her debut recital in April 2016 in Tokyo Spring Music Festival and also performed Mozart, Richard Strauss and Martinu concertos with Tokyo Geidai University Philharmonic and Tokyo Symphony Orchestra. Studied under professors such as Maki Sakamoto, Keiko Narita, Hitoshi Wakui, Yoshiaki Obata and Satoki Aoyama.
Makito Nishiya (Vc1)
Born in Nara. After graduating from Tokyo University of the Arts and its graduate school with master degree, he was accepted by Indiana University in the States for further study. He studied cello under such professors as Fumiaki Kono, Tomoya Kikuchi, Go Tsutsumi, and Janos Starker. Upon returning from the States in 2005, he participated in the initialization of Hyogo Art and Culture Center Orchestra led by Maestro Yutaka Sado. Variety of concert activities of his expand performing as soloist with Kazuyoshi Akiyama, Tadaaki Odaka, Yutaka Sado, and joined sessions with Yasuko Ohtani String Quartet, Ryota Komatsu Tango Orchestra, Live Image, Taro Hakase's Violin Summit. In January 2013, he collaborated with Shigeo Neriki, pianist to have joint recitals in Tokyo and Kyoto, which was well received winning Aoyama Music Award of the year. In 2015, He formed the unit "ShimizuNishiya" together with Yasuaki Shimizu, the head of violinists in Tokyo Symphony, and released the debut CD album "KODO" that covered only their original compositions by overdubbing just by themselves. He is now the head of cellists in Tokyo Symphony and part-time teacher in Tokyo University of the Arts while being active in composition, arrangement, and performance.
Yukinori Kobatake (Vc2)
Graduated from Tokyo University of the Arts with the master's degree. Studied under Toshio Mase, Hiroyuki Kaneki, Masaharu Karita, Nobuko Yamasaki, and Ryoichi Fujimori. Participated in Ozawa International Chamber Music Academy. Performed as contracted cellist in Tokyo Philharmonic Orchestra, and now his activity widely ranges from solo and chamber music to recordings.
Ippei Kitamura (Cb)
Born in Saitama and graduate of Tokyo University of the Arts in 2002, then achieved the master's degree in 2005. Being a university student, Kitamura joined in Beppu Argerich Festival. In 2005, he played the soloist in "Pentatonicophilia" composed by Julian Yu in the International Gaudeamus Music Week. In 2006, he joined in Seiji Ozawa Music Class VII "Resurrection". He studied contrabass under such professors as Yoshio Nagashima, Ganju Kuroki, Naofumi Nishida, Osamu Yamamoto, and Shigeru Ishikawa, and his activities range from orchestras to brass bands, studio sessions, and musicals. After working in Tokyo University of the Arts as lecturer, he continues to be a member of Tokyo Symphony Orchestra. Now studying in the master's degree section of musicology in Tokyo University of the Arts.
Yoichi Tsuchiya (Arranger)
Born in Shibuya, Tokyo and began studying piano at 20 and then composition afterward. Graduated from the Composition Section of Tokyo University of the Arts in 2011. Studied composition under late Akira Kitamura, Yuzuru Kondoh, Hiroyuki Yamamoto, Masaki Teruya, and Junnosuke Yamamoto. Also learned sound design from Mick Sawaguchi, recording from Toru Kamekawa, and engineering from Masaaki Enatsu.
His production "Prelude 5.1" in 5.1ch represented Japan Student Section in 130th AES Convention London Recording Competition, Modern Multi-track Studio Recording. In Recording Critics of the 131st AES Convention New York, "Cori Spezzati Nova" (5.1ch) was highly praised by Elliot Scheiner who is producer and mixing engineer of the Eagles, Aerosmith, Steely Dan and other well-known artists. Morten Lindberg of 2L label commented "music I've never heard".
In 2012, he won the 5.1 Music Production Award of DTM magazine. In 2014, "The Universe for Surround", a collection of surround compositions, was released under UNAMAS label.
A.Piazzolla by Strings and Oboe
Yuki Arimasa Play Steinway D274 NO 427700
M-01 Solitary Morning Rain Yuki Arimasa 7'06"
M-02 Be-Dookie, Yuki Arimasa 5'50"
M-03 Soulful Bill James Williams 5'47"
M-04 Ms. A-Blue Yuki Arimasa 2'14"
M-05 50 Ways to Leave Your Lover Paul Simon 6'07"
M-06 Cubana Chant Ray Bryant 4'00"
M-07 Georgia On My Mind Hoagy Carmichael 7'23"
M-08 It's Subtle Without Tea, Yuki Arimasa 3'45"
Comment by Yuki Arimasa:
"Recalling my elementary school days, as I started listening to jazz music, the first thing that entirely attracted me was gospel and blues. It is the core concept of the album this time. Gospel and blues are both black music and they are very personal, and therefore I think it wouldn't't mean much if I played the type of blues and gospel.
Inside Japanese, the spirit of blues and gospel resides of my own, and that is the reason why they came into my heart so naturally in the childhood without knowing what is gospel or blues, and the album is structured with such originals."
YUKI ARIMASA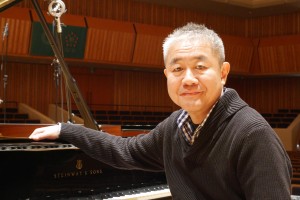 Yuki Arimasa
Born in 1961 in Tokyo. Yuki started piano lessons at the age of three, and was totally enchanted at twelve by the piano performance of Oscar Peterson to drive him studying jazz by himself.
On graduating from Tamagawa University, English literature majored in 1983; he entered Berklee College of Music in the US to study piano and compositions where he won the Award of Hank Jones and the Composition Award of Duke Ellington.
After graduating in 1986, he continued to stay in Berklee for 8 years to teach students as assistant professor, and in 1996 he completed his living in the States to go back home to Japan. The first leader album he produced is "The Bitter Life of Scarecrow".
In 2000, he opened the class of jazz solfege in Senzoku Gakuen University, and actively educates young musicians. The current activities of his extend to his own trio sessions, compositions and arrangements for various projects.
At Jazz Club UNAMAS, his appearance is not only limited to the regular piano trio but also duet and solo offering versatile styles of expressions. His first piano solo album "FOREST" was released in 2011 by UNAMAS-JAZZ label.
The duet project with Tomonao Hara, the trumpeter, was debuted in 2012. His latest piano solo album [Dimensions] was released 2016-06.
Yuki Arimasa/IN THE SPIRIT OF BLUES
Yoshio Obara, Audio-visual critic
Normally a well-trusted relationship in the music creation would be referred to the one among the performing artists, but here between Yuki Arimasa and Mick Sawaguchi, firmly built is a well-trusted relationship of artist and recording engineer・producer. I strongly feel it as I listened to the previous album "Dimensions" and the new "IN THE SPIRIT OF BLUES".
Throughout the album, Mick captures the sound Yuki radiates out to the space in its entirety and its subtlety. And it is not just the sound, but Mick seems to gaze microcosmically on the atmosphere that floats and even the inner pictures within Yuki himself. Such a relationship won't happen unless each one understands precisely how the other would act. They might have established it through their past solo and trio recording sessions. We have the word in Japanese "A-Un" for such effortless communication ability, and it looks like the exact basis of this recording. It was quite impressive to me.
In Track 1 "Solitary Morning Rain" for example, lively vivid is the hammering of the keys as if we slide up closer to the piano on the stage. Our ears may be totally fooled by the richest ambience spreading to all the directions, but the deeply on the fundamental notes is the solid and sturdy blues that Mick captures. Or in the case of Track 2 "Be-Dookie", Yuki's dynamic performance would not have gained so much true-to-life sensation in the plain 2-channel framework. Front-to-back as well as horizontal dimensionality being provided in the space, the front speakers' axis succeeds in visualizing a realistic image of piano three-dimensionally. What I felt very unique was Track 5, a song by Paul Simon, in which Yuki transformed this pop number gradually in the latter part by the impressive and strong left hand into a gospel tune. Even the background noise was vivid that I wondered if it were the rebound of pedal actions underneath the instrument. Check if your surround system manages to reproduce it in good shape.
Yuki's unobtrusive and heavily dark spirit for blues and gospel occasionally reveals melancholic expression, but also turns its feeling to blend the unique flavor of Japanese. The passion of such complications Mick catches beautifully with his skills based on his long experience and variety of technological tricks. The excellence of this recording in surround sound has been made possible by "A-Un" that I should say the Japanese Blues Spirit.
Recording notes
Mick Sawaguchi C.E.O UNAMAS Label
UNAMAS Label has released four piano solo albums those of 3 albums with studio recording. The first album "Forest" by Yuki Arimasa was taken in Onkio Haus studio. It is wonderful to enjoy piano performance with tight sound in studio, but as I did a few classical recordings in Ohga Hall in Karuizawa, I began to imagine how interesting it would be if Yuki plays piano there in the hall. So I made a sample of simulation for him to examine in the spring of 2015.
If the project becomes real, then it is the very unique piano solo in a concert hall for Yuki and at the same time for UNAMAS Label, too. Yuki accepted this, and I made the following three basic concept factors of the project:
1. ART: In order to derive the maximum advantage from the Steinway Hamburg piano in Ohga Hall with excellent tonality, the performance should be original his jazz blues and standard and gospel music.
There, we aimed to capture the beautiful dimensional acoustic of the only event for a tensional moment in Ohga Hall.
2. TECHNOLOGY: We continued using full battery-driven supply and EMC noise treatment as we did in the previous "Dimensions".
We thought the fundamental aspects were most important especially the piano solo project like this, namely the provision to remove unwanted resonation noises around the piano in the stage. Mr. Ishiguro of Acoustic Revive joined as usual with various tuning kits in addition to familiar mic cables. You can see anti-resonation treatments on the tripod of mic stands and mic cradles, and furthermore a diffuser panel underneath the piano that Onkio Haus studio often used for piano recordings.
3. ENGINEERING: We did 9ch immersive surround recording in this project again.
Similar to the previous session of "Dimensions", 4 mic placements for the height channels involved some improvement along the stage front edge line aiming the audience side. The cardioids mics were chosen for Top L/R channels while Omni-directional mics for Top Ls/Rs channels that help capturing the instrument clearer in the front side and somewhat ambient-richer in the rear side.
In the Spirit of Blues
Yuki Arimasa Play Steinway D274 NO 427700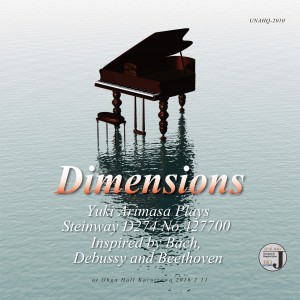 Dimensions
Yuki Arimasa (piano)UNAHQ-2010( UNAMAS J )
[1] Inspirations:Bach Cantata BWV 147
[2] Inspirations:Bach Partita BWV 826 Sarabande Part1
[3] Inspirations:Bach Partita BWV 826 Sarabande Part2
[4] Inspirations:Bach Partita BWV 826 Sarabande Part3
[5] Inspirations:Debussy Homage to Rameau
[6] Inspirations:Beethoven Piano Sonata NO.8 Op13Adagio
[7] Green Sleeves
Dimensions of Piano & Music
Masaaki Fushiki
I have never heard such a sound from recorded media that realizes the image of piano itself almost visible. It is as if the listening touches the instrument through the ears. What makes the sound so real? One of factors I perceive is the purity without least residues in the notes that builds up the form of instrument. Particularly noticeable is the beauty in the extremely fine and subtle decay of envelopes.
The piano played here is Steinway Hamburg D274 model, and its serial number #427700 implies that the instrument came with Arturo Benedetti Michelangeli when he visited Japan. As he went back home before his scheduled final concert, the artist being infamous for such behaviors, the inviter-agent kept hold of his instrument instead and then later offered it to Ohga Hall through some kind of relationship. The pitch is tuned at 440Hz "classically" in the recording as Yuki Arimasa specified.
The music here, the collection of ballades, is actually all derived from well-known themes of classical music, and Yuki Arimasa expands his improvisation as we enjoy the progress crossing the border of classical and jazz music.
Track 1 is from one of the most popular cantatas of J. S. Bach, No. 147 "Herz und Mund und Tat und Leben", in which the string ensemble ripples the melodic passage along the choral "Jesus bleibet meine Freude".

Track 5 is "Homage à Rameau", one of three pieces in Debussy's "Image 1". Debussy was very much into the methodology of classical and baroque compositions in this period of time. As an implication for it, some of his works were actually titled "Prelude" or "Sarabande", and Rameau, the French major in 17th century, seemed his particular favor. I tend to find this piece is the core of this album, and Yuki showed much concentration in it as his homage to Debussy.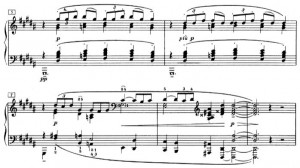 Back to the earlier topic of sound purity, Mick confessed, "it may be perhaps due to the benefit of batteries". In Ohga Hall in Karuizawa where the recording took place, the entire electric energy was supplied from a couple of portable battery products "Power Yiile Plus" that were brought in specifically for this session. The product is nominally for home use in the emergency power-down occasions or for shifting peak consumption time, while it can sufficiently serve 7-8 hours of the recording session like this. If one would use the same solution in the playing at home, the result might be even more astounding! One more factor to note in addition would be the perfectionistic treatment of all kinds of vibrations around the stage even for each contact of cables and plugs that is now the style of UNAMAS recording sessions.
I listened to this recording first in the 9.1 mix that set a standard in my brain and ears. At a later time, I listened to the 5ch mix (equivalent to the release version) at home. The difference between the two was less of auditorium reverberation in the 5ch resulting a simpler situation acoustically that enhances your facing with the instrument more directly. As you shift your listening environment from high-res, pure 2 channel to 5 channel with surround, and from 5 to even higher 9, the sensational factor in sound listening changes from typical "sound quality" horizon to something else. I characterize it as "the presence of sound or instrument" that consists of the relationship between direct sound and indirect sound. When you hear indirect sound exactly from the same point as direct sound, it won't stimulate your perception of the realistic instrument. With the 5ch mix, even if the amount of indirect elements stays in the same level overall, their localization spreads in a more spacious field dimensionally which may contribute in realizing the presence from the sound of instrument, and then the 5ch mix would tend to appear smoother and silkier. The recording here places the piano only a few meters away in front of you to capture very precisely and vividly the solid Steinway highs as well as the lows in the deep. In addition, the acoustics does not fail to illustrate the event is taking place in a much larger concert hall space which is subtle yet appreciable.
Mick's intent here is to establish a stage for listener to relate himself or herself with the instrument beyond simply reproducing the concert hall acoustics, and doing so he managed to offer an ideal listening condition for us. The perception of space and soundstage that I mentioned here may differ depending on each individual playback environment, but the quality will be enjoyed everywhere as its common feature.
Dimensions
Yuki Arimasa (piano)UNAHQ-2010( UNAMAS J )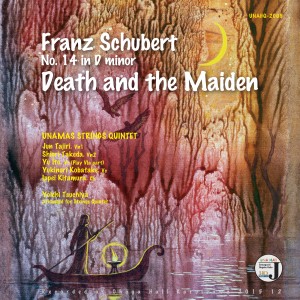 Franz Schubert No. 14 in D minor Death and the Maiden
UNAMAS STRING QUINTET
UNAHQ-2009( UNAMAS J )
4K PV 
 4K interview

Info for Franz Schubert No-14 in D minor Death and the Maiden
Mick Sawaguchi the winner of Japan Professional Recording Award with the releases of Jun Fukamachi's final album "Reimei" and UNAMAS Fugue Quintet's "The Art of Fugue" now introduces the latest work on Schubert's string quartet No. 14 "Death and the Maiden".
This album is the third project in the UNAMAS Classic series produced by Mic Sawaguchi, and they continued the session of "Death and the Maiden" with the arrangement by Yoichi Tsuchiya whom Mick fully depends on and came back to Ohga Hall of Karuizawa for recording.
Most remarkable would be the cello replacing the original viola part to make the quintet consisting of 2 violins, 2 cellos, and a contrabass that enabled to maximize the dramatic and dynamic aspect of the music in the arrangement. The perfectionist approach by Mick Sawaguchi on the sound quality also takes a step further by employing a pair of Eliiy Power's Power Yiile Plus (PPS-20) 2.5KVA battery supplies, one for the cleaner energy in the concert hall monitoring and the other for driving equipment on the stage in addition to EMC noise treatments.
Five artists were placed in a circle for the best resonation of ensemble, and five main mics stood in the core of the circle to capture the details while the four surround mics enhanced the immersiveness.
Enjoy the latest and most challenging "Death and the Maiden" that blends Mick's recording sensitivity with the latest technologies.
"Death and the Maiden" for Strings Quintet (2 Violins 2 Cellos Cb)
com. F. Schubert  arr. Yoichi Tuchiya
1 Allegro 16'24"
2 Andante con moto 14'08"
3 Scherzo Allegro molto 4'04"
4 Presto 9'44"
Play by UNAMAS Strings Quintet
Jun Tajiri (Vn.1)
Shiori Takeda (Vn.2)
Yukinori Kobatake (Vc.1)
Yu Ito (Vc.2 play Va. part)
Ippei Kitamura (Cb.)
Yoichi Tsuchiya (Arranged for Strings Quintet)
Franz Schubert No. 14 in D minor Death and the Maiden
UNAMAS STRING QUINTET
UNAHQ-2009( UNAMAS J )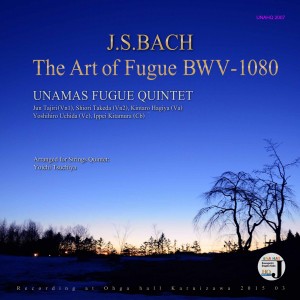 The ART of FUGUE BWV-1080
UNAMAS FUGUE QUINTET
UNAHQ-2007( UNAMAS J )
J.S BACH "The Art of Fugue" 4K Music-Video
Info for The Art of Fugue BWV-1080
"The art of Fugue" appears as the second release in the classical series produced by Mick Sawaguchi: The winner of 22nd Japan Professional Music Recording Award, High-Res Section, Multi-channel surround content
Following Vivaldi's Four Seasons that marked an exceptional long hit in the sales record upon its release, here come the second: Mick Sawaguchi continued his recording session in Ohga Hall, Karuizawa, and the latest production is "The Art of Fugue", the final masterwork of J. S. Bach. Yoichi Tsuchiya has made this difficult work into an amazing arrangement of string quartet with an additional contrabass. With this world's first challenge, the impression of "the Art of Fugue" is completely renewed by Mick.
The ultimately highest technologies/equipment have been employed in the session such as MADI optical, Neumann KM-133D digital mics, and Acoustic Revive's mic cables, and you will enjoy the most advanced high-res sound.
The ART of FUGUE BWV-1080
UNAMAS FUGUE QUINTET
UNAHQ-2007( UNAMAS J )
The Quartet Four Seasons
UNAHQ-2005( UNAMAS J )
Classical Music / Chamber music
Finesse of the player phenomenal and High SN !
Phenomenal awesome SN is due to heavy snow around the venue, the latest digital microphones, and optical transmission.
The high skill artists are playing the solo part of the violin by viola and cello.
The recordings convey the atmosphere of the venue by Microphone Seting which is decided in a computer simulation.
Antonio Vivaldi arr.Yoichi Tsuchiya :
[1] Concerto in E major, "La Promavera" (Spring), Op. 8-1, RV 269;
I. Allegro
II. Largo
III. Allegro(Danza pastorale)
[2] Concerto in G minor, "L'estate" (Summer), Op. 8-2, RV 315;
I. Allrgro non molto-Allegro
II. Adagio-Presto-Adagio
III. Presto(Tempo impetuoso d' estate)
[3] Concerto in F major, "L'autunno" (Autumm), Op.8-3, RV 293;
I. Allegro(Ballo, e canto de' villanelli)
II. Adagio molto(Ubriachi, dormienti)
III. Allegro(La caccia)
[4] Concerto in F minor, "L'inverno" (Winter), Op. 8-4, RV 297;
I. Allegro non molto
II. Largo
II. Allegro
Artists
The Quartet Four Seasons :
Shiori Takeda, 1st violin
Kumiko Kasugai, 2nd violin
Kazuhide Iino, viola
Masateru Nishikata, cello
Rec. Data
2014.2.20-22 at Ohga Hall Karuizawa, Nagano,Japan
"The Four Seasons" [Antonio Vivaldi] 4K Music-Video Hi-Res Recording at Ohga Hall by UNAMAS LABEL

4K "The Four Seasons" [Antonio Vivaldi] Behind the Scenes-Hi-Res Recording at Ohga Hall by UNAMAS LABEL

The Four Seasons
The Quartet Four Seasons
UNAHQ-2005( UNAMAS J )
Classical Music / Chamber music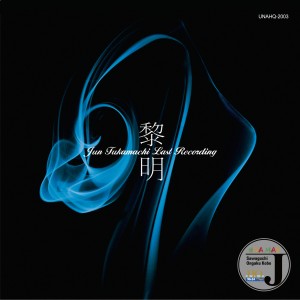 REIMEI
Jun Fukamachi : piano
UNAHQ-2003( UNAMAS J )
Format:
High-Resolution
FLAC 96kHz/24bit
FLAC 96kHz/24bit surround
Artist
Jun Fukamachi (piano)

trial listening of the other songs [HQM STORE site]
Recording scene
Special Booklet of "REIMEI" Jun Fukamachi
REIMEI
Jun Fukamachi : piano
UNAHQ-2003( UNAMAS J )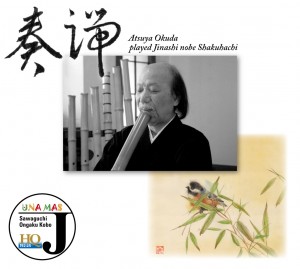 SOZEN
Atsuya Okuda
UNAHQ-2001( UNAMAS J )
Traditional Japanese music
Format :
High-Resolution
FLAC 96kHz/24bit
FLAC 192kHz/24bit
FLAC 96kHz/24bit surround
FLAC 192kHz/24bit surround
Artist :
Atsuya Okuda : Hotchiku
192kHz/24bit Recording

trial listening of the other songs [HQM STORE site]
Content notes:
1. Koten Suzuru ……………….Being also named" Godan Suzuru", referring to the episode in Sukago Innenkyo about cranes cutting their body for the sake for growing their babies, this piece was said to express the behavior of self-sacrificing parents.
2. Honte no Shirabe ………… Tune to practice for long period of time. It reminds the players of the challenging subject of
breathing. Other similar equivalents include the traditional piece in Fudaiji Temple of Mt. Rintaku in Hamamatsu and the
piece in Meianji Temple of Mt. Kyorei in Kyoto.
3. Nerisaji………………………..Legendarily this set of tunes was originally composed by Shinhichi Maki who was a samurai of
Kuroda domain and belonged to Hakata Icchoken school in Kyushu. Three pieces survived to date that are" Bousaji"", Yurisaji" and" Nerisaji". Saji means the Mercy of Bodhisattva that represents the spirit of Mahayana. Among" Shin"," Gyou" and" Sou" in Saji," Sou" is the most extraordinary and complex composition through repeated tempering and polishing (="neri"), and that is why it is called Nerisaji.
4. Kyorei ………………………… The title means imaginery [=kyo] bell [=rei] and is sometimes referred as imaginery spirit. The most classical piece among the works of Fukeshu budhism sect.
5. Kudariha-Kaede ………….. Traditionally inherited in Kyushu area with two versions of Honte and Kaede. This recording is the piece for Kaede.
6. Sokkan……………………….. The wind blows toward decaying bamboos in thicket. The sense of this desolateness overlaps to the state of the spirit with this tune. We overview the world through the breath, the wind, and the bamboo.
7. Sanya…………………………. One of theories explains that this term originally meant mendicancy.
8. Betsuden, Shika no Tone… The tune extends itself as inspired by the sound of deer that reside in distant mountains and by their behavior of running around. A challenging piece of music to play with the register as wide as 4 octaves.
9. Shinya …………………………Prevailing quietness in the midnight transitions to bright enlightment in the dawn.
On the Production of" So-Zen" Album
One finds something essential with Japanese traditional instruments, and it is" sawari"". Sawari" is the intimacy to the nature as compared to the voices of cicadas in the sense that their tunes are heavily complex almost like a noise but they blend well with variety of natural sounds. Other tunes of "sawari" are, for example, a clear click of a wind-bell or a profound bell of temples that brings us the sense of beauty and emptiness of life as well.
The fascinating character of" Hocchiku" instrument, Jinashi-nobe Shakuhachi by definition, used in this recording is its deep softness featuring" sawari". Two-piece, Jiari Shakuhachi that is most commonly popular today is the result of pursuing the sound pitch and volume suited for ensembles at the sacrifice of tones.
The natural form of Hocchiku is rich with" sawari" bringing the tone of distance that we Japanese continued to be particular with. The slower rise of notes and extremely fine, subtle sounds are interestingly quite audible. Inverse proportional to the sound volume, the taste and profoundness of its tones are even more vivid.
Atsuya Okuda
Born in 1945, Atsuya Okuda was active as jazz trumpet player for 20 years since 1965, and thereafter has he studied" hocchiku", an authentic Japanese bamboo flute, with the inspiration of its infinite potential in forming his original world of music.
In 1985, he set up Zen-Sabo in Kokubunji, Tokyo as the foundation of teaching" hocchiku" as wellas focal training of himself, and started workshop activities and tours to such countries as Switzerland, Austria, England, Canada, USA and Finland since 2003. He has received many foreign country students who aspire to master hocchiku at Zen-Sabo.
The instrument is plainly natural like a bare bone bamboo tree, and in order to play it, not only the high level of skills but also the spirit to resonate only with essentials among excesses are required, similar to Zen's spirit. Okuda is the single only player of Hocchiku inheriting the spirituality of Watazumi Doso who died in 1992. His CD album" Sound of Zen" released in 2002 was a participating work in Japan Arts Festival by Agency for Cultural Affairs.
Okuda had ceased his recordings because the sound quality did not meet his expectations, but the concept of" Surround Scape" promoted by Mick Sawaguchi convinced him with its totally new aspect of presentation as well as its sound quality. Hence, this collaboration resulted.
Comment from Atsuya Okuda
As attributed as the most natural form of instrument, Hocchiku is gifted with the tone of distance that we Japanese continued to be traditionally particular with. Interestingly, the slower rise of notes and extremely fine, subtle sounds are rather powerful to be heard. I was fully delighted and astonished to have triggered mutual stimulations and realized the "tone of distance" in collaborating my Hocchiku with Mick Sawaguchi who works for Producer & engineer on it promotes as the new technological format of artistic expression.
Mick Sawaguchi, UNAMAS HUG
In this recording, we captured "Hocchiku" in surround with 192kHz/24 bit .Finally it was mix down with surround scape as 96KHz-24bit resolution as release format. This instrument is the original form of Shakuhachi, dened as Jinashi-nobekan, with no additional treatment of inner pipe surface for ne pitch-tuning. The sound that Atsuya Okuda generates at some times was almost indicational, and the dynamic range of its air burst was hugely broad particularly when he concealed his breath, therefore the subject was a tough challenge for the recording engineer. The highest priority was focused to realize the ultimate environment for playing in the studio room, and we asked Nittobo prepare a modied version of AGS the day before that managed to equalize the wave motion. The rest was the equipment as usual, and the following microphones of Microtech and Royer's ribbon were chosen for the main, and CO-100K for surround that went in to Pyramix DAW. Please see the line-up below for your reference.
Microphone Microtech Gefell UM-900 Royer R-122, Sanken CO-100K
Mic Pre-amp SSL 9000j
Audio Interface RME Fireface UC
DAW PYRAMIX Native+MacBook Pro
Power-supply Isolation Soundnite
Studio Acoustic Treatment Nittobo AGS Sound Diffusing Absorber
"Sozen" Atsuya Okuda Booklet-Eng
SOZEN
Atsuya Okuda
UNAHQ-2001( UNAMAS J )
Traditional Japanese music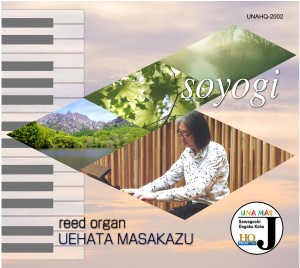 SOYOGI
Masakazu Uehata : reed organ Ami Yamazaki : Vocal
UNAHQ-2002( UNAMAS J )
Children's songs
Format:
High-Resolution &  Stereo/Surround
FLAC 96kHz/24bit
FLAC 192kHz/24bit
FLAC 96kHz/24bit surround
FLAC 192kHz/24bit surround
Artist:
Masakazu Uehata (reed organ)
Ami Yamazaki (Vocal)
SOYOGI
Masakazu Uehata : reed organ Ami Yamazaki : Vocal
UNAHQ-2002( UNAMAS J )
Children's songs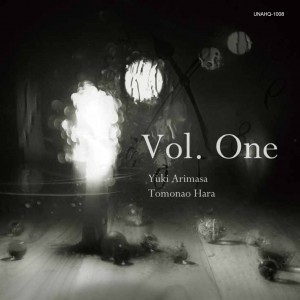 Vol. One
Yuki Arimasa : piano Tomonao Hara : trumpet
UNAHQ-1008( UNAMAS Jazz )
Format:
High-Resolution
FLAC 96kHz/24bit
Song Title:
[1] Near
[2] Foget Me Not
[3] New Life
[4] Hills
[5] Cizwick
[6] The Wheel of The Wind
[7] K.K…
[8] Passing Low Key
[9] Spice
[10] Stumbling Over
[11] Near-2
Artists :
Arimasa Yuki  : piano
Tomonao Hara : trumpet
Vol. One
Yuki Arimasa : piano Tomonao Hara : trumpet
UNAHQ-1008( UNAMAS Jazz )