Yuki Arimasa Play Steinway D274 NO 427700
M-01 Solitary Morning Rain Yuki Arimasa 7'06"
M-02 Be-Dookie, Yuki Arimasa 5'50"
M-03 Soulful Bill James Williams 5'47"
M-04 Ms. A-Blue Yuki Arimasa 2'14"
M-05 50 Ways to Leave Your Lover Paul Simon 6'07"
M-06 Cubana Chant Ray Bryant 4'00"
M-07 Georgia On My Mind Hoagy Carmichael 7'23"
M-08 It's Subtle Without Tea, Yuki Arimasa 3'45"
Comment by Yuki Arimasa:
"Recalling my elementary school days, as I started listening to jazz music, the first thing that entirely attracted me was gospel and blues. It is the core concept of the album this time. Gospel and blues are both black music and they are very personal, and therefore I think it wouldn't't mean much if I played the type of blues and gospel.
Inside Japanese, the spirit of blues and gospel resides of my own, and that is the reason why they came into my heart so naturally in the childhood without knowing what is gospel or blues, and the album is structured with such originals."
YUKI ARIMASA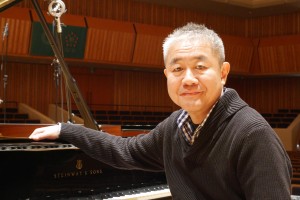 Yuki Arimasa
Born in 1961 in Tokyo. Yuki started piano lessons at the age of three, and was totally enchanted at twelve by the piano performance of Oscar Peterson to drive him studying jazz by himself.
On graduating from Tamagawa University, English literature majored in 1983; he entered Berklee College of Music in the US to study piano and compositions where he won the Award of Hank Jones and the Composition Award of Duke Ellington.
After graduating in 1986, he continued to stay in Berklee for 8 years to teach students as assistant professor, and in 1996 he completed his living in the States to go back home to Japan. The first leader album he produced is "The Bitter Life of Scarecrow".
In 2000, he opened the class of jazz solfege in Senzoku Gakuen University, and actively educates young musicians. The current activities of his extend to his own trio sessions, compositions and arrangements for various projects.
At Jazz Club UNAMAS, his appearance is not only limited to the regular piano trio but also duet and solo offering versatile styles of expressions. His first piano solo album "FOREST" was released in 2011 by UNAMAS-JAZZ label.
The duet project with Tomonao Hara, the trumpeter, was debuted in 2012. His latest piano solo album [Dimensions] was released 2016-06.
Yuki Arimasa/IN THE SPIRIT OF BLUES
Yoshio Obara, Audio-visual critic
Normally a well-trusted relationship in the music creation would be referred to the one among the performing artists, but here between Yuki Arimasa and Mick Sawaguchi, firmly built is a well-trusted relationship of artist and recording engineer・producer. I strongly feel it as I listened to the previous album "Dimensions" and the new "IN THE SPIRIT OF BLUES".
Throughout the album, Mick captures the sound Yuki radiates out to the space in its entirety and its subtlety. And it is not just the sound, but Mick seems to gaze microcosmically on the atmosphere that floats and even the inner pictures within Yuki himself. Such a relationship won't happen unless each one understands precisely how the other would act. They might have established it through their past solo and trio recording sessions. We have the word in Japanese "A-Un" for such effortless communication ability, and it looks like the exact basis of this recording. It was quite impressive to me.
In Track 1 "Solitary Morning Rain" for example, lively vivid is the hammering of the keys as if we slide up closer to the piano on the stage. Our ears may be totally fooled by the richest ambience spreading to all the directions, but the deeply on the fundamental notes is the solid and sturdy blues that Mick captures. Or in the case of Track 2 "Be-Dookie", Yuki's dynamic performance would not have gained so much true-to-life sensation in the plain 2-channel framework. Front-to-back as well as horizontal dimensionality being provided in the space, the front speakers' axis succeeds in visualizing a realistic image of piano three-dimensionally. What I felt very unique was Track 5, a song by Paul Simon, in which Yuki transformed this pop number gradually in the latter part by the impressive and strong left hand into a gospel tune. Even the background noise was vivid that I wondered if it were the rebound of pedal actions underneath the instrument. Check if your surround system manages to reproduce it in good shape.
Yuki's unobtrusive and heavily dark spirit for blues and gospel occasionally reveals melancholic expression, but also turns its feeling to blend the unique flavor of Japanese. The passion of such complications Mick catches beautifully with his skills based on his long experience and variety of technological tricks. The excellence of this recording in surround sound has been made possible by "A-Un" that I should say the Japanese Blues Spirit.
Recording notes
Mick Sawaguchi C.E.O UNAMAS Label
UNAMAS Label has released four piano solo albums those of 3 albums with studio recording. The first album "Forest" by Yuki Arimasa was taken in Onkio Haus studio. It is wonderful to enjoy piano performance with tight sound in studio, but as I did a few classical recordings in Ohga Hall in Karuizawa, I began to imagine how interesting it would be if Yuki plays piano there in the hall. So I made a sample of simulation for him to examine in the spring of 2015.
If the project becomes real, then it is the very unique piano solo in a concert hall for Yuki and at the same time for UNAMAS Label, too. Yuki accepted this, and I made the following three basic concept factors of the project:
1. ART: In order to derive the maximum advantage from the Steinway Hamburg piano in Ohga Hall with excellent tonality, the performance should be original his jazz blues and standard and gospel music.
There, we aimed to capture the beautiful dimensional acoustic of the only event for a tensional moment in Ohga Hall.
2. TECHNOLOGY: We continued using full battery-driven supply and EMC noise treatment as we did in the previous "Dimensions".
We thought the fundamental aspects were most important especially the piano solo project like this, namely the provision to remove unwanted resonation noises around the piano in the stage. Mr. Ishiguro of Acoustic Revive joined as usual with various tuning kits in addition to familiar mic cables. You can see anti-resonation treatments on the tripod of mic stands and mic cradles, and furthermore a diffuser panel underneath the piano that Onkio Haus studio often used for piano recordings.
3. ENGINEERING: We did 9ch immersive surround recording in this project again.
Similar to the previous session of "Dimensions", 4 mic placements for the height channels involved some improvement along the stage front edge line aiming the audience side. The cardioids mics were chosen for Top L/R channels while Omni-directional mics for Top Ls/Rs channels that help capturing the instrument clearer in the front side and somewhat ambient-richer in the rear side.
In the Spirit of Blues
Yuki Arimasa Play Steinway D274 NO 427700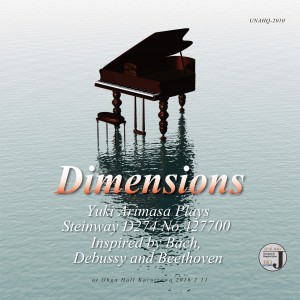 Dimensions
Yuki Arimasa (piano)UNAHQ-2010( UNAMAS J )
[1] Inspirations:Bach Cantata BWV 147
[2] Inspirations:Bach Partita BWV 826 Sarabande Part1
[3] Inspirations:Bach Partita BWV 826 Sarabande Part2
[4] Inspirations:Bach Partita BWV 826 Sarabande Part3
[5] Inspirations:Debussy Homage to Rameau
[6] Inspirations:Beethoven Piano Sonata NO.8 Op13Adagio
[7] Green Sleeves
Dimensions of Piano & Music
Masaaki Fushiki
I have never heard such a sound from recorded media that realizes the image of piano itself almost visible. It is as if the listening touches the instrument through the ears. What makes the sound so real? One of factors I perceive is the purity without least residues in the notes that builds up the form of instrument. Particularly noticeable is the beauty in the extremely fine and subtle decay of envelopes.
The piano played here is Steinway Hamburg D274 model, and its serial number #427700 implies that the instrument came with Arturo Benedetti Michelangeli when he visited Japan. As he went back home before his scheduled final concert, the artist being infamous for such behaviors, the inviter-agent kept hold of his instrument instead and then later offered it to Ohga Hall through some kind of relationship. The pitch is tuned at 440Hz "classically" in the recording as Yuki Arimasa specified.
The music here, the collection of ballades, is actually all derived from well-known themes of classical music, and Yuki Arimasa expands his improvisation as we enjoy the progress crossing the border of classical and jazz music.
Track 1 is from one of the most popular cantatas of J. S. Bach, No. 147 "Herz und Mund und Tat und Leben", in which the string ensemble ripples the melodic passage along the choral "Jesus bleibet meine Freude".

Track 5 is "Homage à Rameau", one of three pieces in Debussy's "Image 1". Debussy was very much into the methodology of classical and baroque compositions in this period of time. As an implication for it, some of his works were actually titled "Prelude" or "Sarabande", and Rameau, the French major in 17th century, seemed his particular favor. I tend to find this piece is the core of this album, and Yuki showed much concentration in it as his homage to Debussy.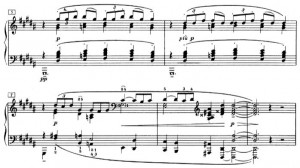 Back to the earlier topic of sound purity, Mick confessed, "it may be perhaps due to the benefit of batteries". In Ohga Hall in Karuizawa where the recording took place, the entire electric energy was supplied from a couple of portable battery products "Power Yiile Plus" that were brought in specifically for this session. The product is nominally for home use in the emergency power-down occasions or for shifting peak consumption time, while it can sufficiently serve 7-8 hours of the recording session like this. If one would use the same solution in the playing at home, the result might be even more astounding! One more factor to note in addition would be the perfectionistic treatment of all kinds of vibrations around the stage even for each contact of cables and plugs that is now the style of UNAMAS recording sessions.
I listened to this recording first in the 9.1 mix that set a standard in my brain and ears. At a later time, I listened to the 5ch mix (equivalent to the release version) at home. The difference between the two was less of auditorium reverberation in the 5ch resulting a simpler situation acoustically that enhances your facing with the instrument more directly. As you shift your listening environment from high-res, pure 2 channel to 5 channel with surround, and from 5 to even higher 9, the sensational factor in sound listening changes from typical "sound quality" horizon to something else. I characterize it as "the presence of sound or instrument" that consists of the relationship between direct sound and indirect sound. When you hear indirect sound exactly from the same point as direct sound, it won't stimulate your perception of the realistic instrument. With the 5ch mix, even if the amount of indirect elements stays in the same level overall, their localization spreads in a more spacious field dimensionally which may contribute in realizing the presence from the sound of instrument, and then the 5ch mix would tend to appear smoother and silkier. The recording here places the piano only a few meters away in front of you to capture very precisely and vividly the solid Steinway highs as well as the lows in the deep. In addition, the acoustics does not fail to illustrate the event is taking place in a much larger concert hall space which is subtle yet appreciable.
Mick's intent here is to establish a stage for listener to relate himself or herself with the instrument beyond simply reproducing the concert hall acoustics, and doing so he managed to offer an ideal listening condition for us. The perception of space and soundstage that I mentioned here may differ depending on each individual playback environment, but the quality will be enjoyed everywhere as its common feature.
Dimensions
Yuki Arimasa (piano)UNAHQ-2010( UNAMAS J )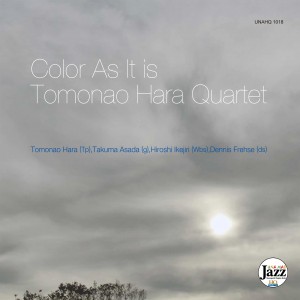 Color as It is
Tomonao Hara Quartet

HIGHRESAUDIO / HQM STORE
Info for Color as It is
Tomonao Hara is a jazz trumpeter whose heartfelt warm tones and energetic performances are highly acclaimed. This time, he will bring his own quartet that has released "Color As It Is".
Tomonao Hara Quartet:
Tomonao Hara, trumpet
Takuma Asada, guitar
Hiroshi Ikejiri, bass
Dennis Frehse, drums
Recorded September 16-18, 2014 at Studio 1 at Onkio Haus, Tokyo
1 Dark Dance 07:51
2 Ley Line0 8:45
3 Lost Hearts of Lost Children 05:22
4 Gauge 06:02
5 Color As It is 11:31
6 Family Man 05:08
7 Let's Gomi Jam 05:46
8 Sign 10:25
9 Wait, with Hope 04:40
10 Lightly 07:23
Color as It is
Tomonao Hara Quartet

HIGHRESAUDIO / HQM STORE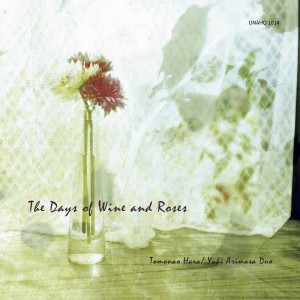 The Days of Wine and Roses
Yuki Arimasa & Tomonao Hara
UNAHQ-1014( UNAMAS Jazz )
Info for The Days of Wine and Roses
The second release of the duet by Yuki Arimasa and Tomonao Hara who are the leading jazz players in UNAMAS label. The previous album "DUET VOL. 01" gathered the originals by both of them, but this time they play standard jazz numbers. Most of tracks were done in a single take, and the beautiful melodies of the duet came out of the setting facing each other in Onkio Haus Studio 1.
Yuki Arimasa, piano
Tomonao Hara, trumpet
[1] The Days of Wine and Roses
[2] April in Paris
[3] In Your Own Sweet Way
[4] How My Heart Sings
[5] For All We Know
[6] Conception
[7] Little Girl Blue
[8] But Not For Me
[9] Where or When
[10] Just Friends
The Days of Wine and Roses
Yuki Arimasa & Tomonao Hara
UNAHQ-1014( UNAMAS Jazz )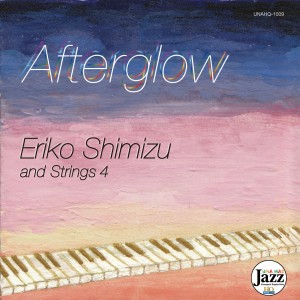 Afterglow ~ZANSYO~ (Condenser Microphone Ver.)
Eriko Shimizu (piano)
UNAHQ-1009( UNAMAS Jazz )
Jazz
Format:
High-Resolution &  Stereo/Surround
FLAC 192kHz/24bit
FLAC 192kHz/24bit surround
Song Title:
[1] Smoke Get's In Your Eyes -Jerome Kern-
[2] I've Got A Crush On You -George Gersgwin-
[3] Aftergrow ~Zansyo~ -Eriko Shimizu-
[4] Oborozukiyo -Teiichi Okano-
[5] Someone To Light Up My Life -Antonio Carlos Jobim-
[6] I Loves You Porgy -George Gershwin-
[7] A Ray Of Hope -Eriko Shimizu-
[8] Sora -Eriko Shimizu-

Artists:
Eriko Shimizu (Piano)
Shiori Takeda (Vn1)
Atsuki Yoshida (Vn2)
Marina Suzuki (Va)
Kazune Koshikawa (Vc)
Recording Scene
Afterglow ~ZANSYO~ (Condenser Microphone Ver.)
Eriko Shimizu (piano)
UNAHQ-1009( UNAMAS Jazz )
Jazz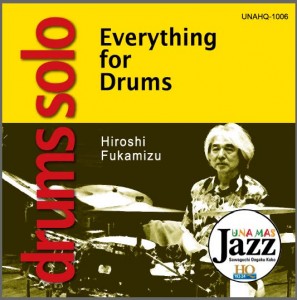 Everything for Drums
Hiroshi Fukamizu
UNAHQ-1006( UNAMAS Jazz )
Format:
High-Resolution &  Stereo/Surround
FLAC 96kHz/24bit
FLAC 192kHz/24bit
FLAC 96kHz/24bit surround
FLAC 192kHz/24bit surround
MQA
Song Title:
1 Volcano 3:14
2 Smokey 4:12
3 Resonance 5:56
4 Kegon 4:12
5 Lullaby 4:43
6 Melilin 4:11
7 Magic Hand
8 Boshita 2:46
9 Brushing Blues
10 One for Elvin
Artist:
Hiroshi Fukamizu  (drums)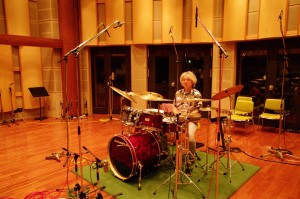 Everything for Drums
Hiroshi Fukamizu
UNAHQ-1006( UNAMAS Jazz )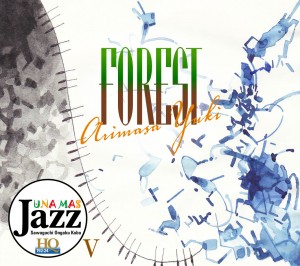 FOREST
Arimasa Yuki
UNAHQ-1004( UNAMAS Jazz )
Jazz
Format:
High-Resolution &  Stereo/Surround
FLAC 96kHz/24bit
FLAC 192kHz/24bit
FLAC 96kHz/24bit surround
FLAC 192kHz/24bit surround
MQA
Song Title :
[1] Forest
[2] In the Mist of Spring
[3] Liberty Changes
[4] Spaces
[5] Sutra
[6] Two Autums
[7] Winter Waltz
[8] So I love you – Carroll Coates
Artist :
Arimasa Yuki  (piano)
Yuki Arimasa
Born in 1961 in Tokyo. Started piano lessons at the age of 3, and was inspired by Oscar Peterson at 12 to
proceed studying jazz personally. Upon graduation from Tamagawa University (majoring English
literature) in 1983, he entered Berklee College of Music to study piano and composition. Winner of
Hank Jones Award and Duke Ellington Composer Award while in College. Graduated in 1986 and
remained in the college as assistant professor for 8 years. Returned to Japan in 1996 and led the
production of "The Bitter Life of Scarecrow" as Leader of the album. Established Jazz Solfege class in
Senzoku Gakuen College in 2000 to contribute in educating young artists. Currently runs his own trio
and also presents compositions and arrangements to number of projects. The performance at Unamas
covers not only his piano trio but also solo and duet pianos. This is the rst album of his piano in solo that
consists mainly of his original works.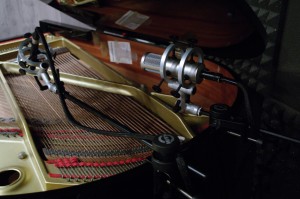 "FOREST" ArimasaYuki Special Booklet-Eng
FOREST
Arimasa Yuki
UNAHQ-1004( UNAMAS Jazz )
Jazz